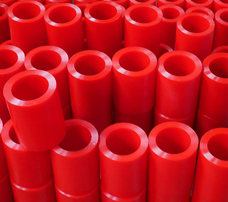 Anti-Static Flexible Polyurethane PU Plastic Tube - German Material, Made In CHINA
What are Polyurethane Tubes?
Pepsen polyurethane tube are thermoset cast polyurethane products which are not extruded from TPU granules. We manufacture polyurethane tubes to custom sizing specifications, each PU tube is hand cast which allow us to adjust our urethane material to add additive to meet requirements of fire retardancy , anti-static, antioxidant, mildew resistance, anti-aging, lubrication.
Pepsen can cast polyurethane tube with a wide hardness ranging from Shore 5A to 75 Shore D.
What is difference between cast PU tube and extruded PU tube?
Extruded PU tube is widely use as pneumatic tube and infusion tube in medical industry, the big advantage is liner strength, however, the hardness range is much smaller as well as other physical properties.
Cast PU tube is made of thermoset polyurethane with crosslink structure which provides excellent physical properties. Our in-house machining capabilities can provide tight tolerances and a ground finish for your polyurethane tube. Pepsen can also can make Dual Durometer polyurethane tubes and custom shapes.
What are applications of cast PU tube?
Pepsen polyurethane can be efficiently machined using conventional machine tools. You can cut, turn, grind, drill and mill or have us do it for you.
Common applications of Cast PU tube include:
Die Punch Springs/cap
Solid Rollers/wheels
Protective Sleeves
Vibration Isolators
Shock absorbers
Bumpers
Sound dampening
Bushings
Seal /Ring/Washer/disk Machining