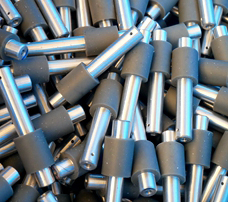 Shanghai Pepsen manufactures anti-static urethane roller as per customer requirements including drawings or samples. Hardness is normally 50A,70A ,90A, but can vary as well as color.
What is Anti-static Urethane Roller?
Urethane itself is non-conductive and does not dissipate electrical charge. Rolling friction will create static builds up electricity, a dangerous amount of electricity may build up on isolated parts. Anti-static urethane rollers are manufactured and used to reduce static electricity build-up.
What are advantages of Anti-static Urethane Rollers?
Eliminate electrical charge
Maintains consistent conductivity over time
Does not contaminate electronic or mechanical devices
Longer component life by preventing glazing
No or little tooling cost
Ester based and ether based polyurethane available
How does PEPSEN make Anti-static Urethane Rollers?
Anti-static additives are inexpensive and only a small ratio will work well. Adding these additives will affect urethane physical properties and shrinkage rate slightly, though creating a much safer environment. The anti-static additive will be mixed completely through the urethane material, PEPSEN has more than ten years' experience of adding anti-static additive into urethane compounds, so meanwhile we can have hardness and shrinkage under control.
Online Enquiry
Anti-static Urethane Roller