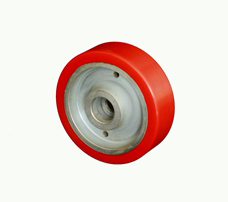 Shanghai Pepsen manufactures standard and custom polyurethane wheels for automatic revolving door as per customer requirements including drawings or samples. Hardness is normally 85-95A, but can vary as well as color.
What is urethane wheels for automatic revolving door?
Considering safety and lot of traffic, revolving doors have to keep turning smoothly. The tight tolerance is the key point and must be meet strictly, so that nothing breaks down before major maintenance takes place. It's also not desirable that problems arise on location due to deviating dimensions. That requires customization and high quality.
What are advantages of polyurethane wheels for automatic revolving door?
Super abrasion resistance.
High temperature resistance.
Very low permanent deformation
Impact and shock absorption.
Oil and chemical resistant
Reduce noise significantly.
Excellent cut resistance.
Many tools in stock to avoid high tooling cost.
High abrasion resistant and heat resistant Vulkollan Equivalent wheels available for toughest application.
Why you choose PEPSEN to produce automatic revolving door polyurethane wheels?
To offer a high-quality wheel solution for revolving doors, we have developed together with famous revolving doors manufactures, a complete range of drive wheels. In this way, PEPSEN takes over a part of the supply chain, saving a lot of handling cost and getting much experience of designing wheels and choosing application specific polyurethane formulation, and we extend our products and service to other automatic revolving door manufacturers.
Online Enquiry
Automatic Revolving Door Polyurethane Wheels