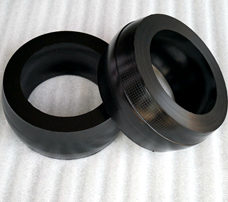 Shanghai Pepsen manufactures custom Polyurethane buffer pad as per customer requirements including drawings or samples. Hardness is normally 70-90A, but can vary as well as color.
What is PU buffer pad?
Polyurethane buffer pad is not only strong, but flexible. The purpose of a buffer pad is to reduce impact as it comes in contact with another object. This custom PU buffer pad made and developed by PEPSEN is used in railway system.
What are advantages of PU buffer pad?
Outstanding abrasion, impact, cut and tear resistance
Oil and Chemical resistance
High load capacity and low compression set
Non-marking, non-marring
Excel at reducing transmitted shock loads
Tearing and weather-related aging
Why you choose PEPSEN PU buffer pad?
We have much experience of design custom urethane pad
In-house urethane prepolymer manufacturing
Made from a specially formulated high resilience elastomer (polyurethane) with exceptional shock absorbing properties.
Hardness ranging from Shore 5A to 98A to 80D. Ester or Ether based
Over 30 stocked color options and customized colors available.