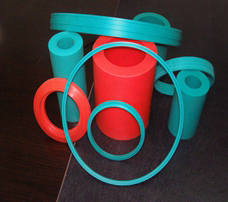 On 2010, PEPSEN Polyurethane developed inexpensive custom formulation successfully to replace Austrian cast polyurethane semi-finished tube /bar for hydraulic seal machining. We get approval from over 30 customers worldwide.
General
Hydrolysis resistant polyurethane tube with a hardness of 95 +/-2 Shore A with very good physical properties. The resistance to most common hydraulic fluids and oil-water emulsions makes it a very universal material for seal applications
Chemical resistance
Resistant to Sea Water, HFA, HFB fluids, mineral oils, vegetable oils, silicone oils, biodegradable oils, ozone, cold oxygen.
Main application
Static and dynamic seals (standard and special), wipers, O-rings, back-up rings, flange seals, rotary seals, low friction and wear, high extrusion resistance, compatibility with water, excellent low temp characteristics.
Analysis and Evaluation
The properties relate to fundamental values for polyurethane products. Values mentioned above are corresponding to GB/T (stricter) or DIN standards and have been tested on standardized plates in the laboratory. All immersion tests are made under laboratory conditions
| | | | |
| --- | --- | --- | --- |
| Product Name | Dimensions (OD*ID*L) mm | Hardness | Color |
| PU Bar | 33*150 | 95+/-2 | Green/red/yellow |
| PU Tube | 38*13*150 | 95+/-2 | Green/red/yellow |
| PU Tube | 48*22*150 | 95+/-2 | Green/red/yellow |
| PU Tube | 58*27*150 | 95+/-2 | Green/red/yellow |
| PU Tube | 65*35*150 | 95+/-2 | Green/red/yellow |
| PU Tube | 70*40*150 | 95+/-2 | Green/red/yellow |
| PU Tube | 68*37*150 | 95+/-2 | Green/red/yellow |
| PU Tube | 78*47*150 | 95+/-2 | Green/red/yellow |
| PU Tube | 80*50*150 | 95+/-2 | Green/red/yellow |
| PU Tube | 88*52*150 | 95+/-2 | Green/red/yellow |
| PU Tube | 90*60*150 | 95+/-2 | Green/red/yellow |
| PU Tube | 98*62*150 | 95+/-2 | Green/red/yellow |
| PU Tube | 100*70*150 | 95+/-2 | Green/red/yellow |
| PU Tube | 105*75*150 | 95+/-2 | Green/red/yellow |
| PU Tube | 108*67*150 | 95+/-2 | Green/red/yellow |
| PU Tube | 110*80*150 | 95+/-2 | Green/red/yellow |
| PU Tube | 118*77*150 | 95+/-2 | Green/red/yellow |
| PU Tube | 120*70*150 | 95+/-2 | Green/red/yellow |
| PU Tube | 122*95*150 | 95+/-2 | Green/red/yellow |
| PU Tube | 128*87*150 | 95+/-2 | Green/red/yellow |
| PU Tube | 130*75*150 | 95+/-2 | Green/red/yellow |
| PU Tube | 130*80*150 | 95+/-2 | Green/red/yellow |
| PU Tube | 130*95*150 | 95+/-2 | Green/red/yellow |
| PU Tube | 133*97*150 | 95+/-2 | Green/red/yellow |
| PU Tube | 143*107*150 | 95+/-2 | Green/red/yellow |
| PU Tube | 150*125*150 | 95+/-2 | Green/red/yellow |
| PU Tube | 153*117*150 | 95+/-2 | Green/red/yellow |
| PU Tube | 163*127*150 | 95+/-2 | Green/red/yellow |
| PU Tube | 170*132*150 | 95+/-2 | Green/red/yellow |
| PU Tube | 173*132*150 | 95+/-2 | Green/red/yellow |
| PU Tube | 188*142*150 | 95+/-2 | Green/red/yellow |
| PU Tube | 198*152*150 | 95+/-2 | Green/red/yellow |
| PU Tube | 208*180*150 | 95+/-2 | Green/red/yellow |
| PU Tube | 240*200*150 | 95+/-2 | Green/red/yellow |
| PU Tube | 250*215*150 | 95+/-2 | Green/red/yellow |
| PU Tube | 320*280*150 | 95+/-2 | Green/red/yellow |
| PU Tube | 330*290*150 | 95+/-2 | Green/red/yellow |
| PU Tube | 340*305*150 | 95+/-2 | Green/red/yellow |
Online Enquiry
Cast Hydraulysis Resistant Polyurethane Tube