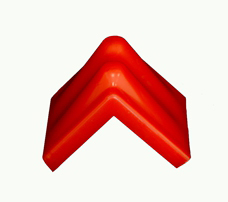 What is cast polyurethane elastomer components?
Cast polyurethane elastomer is thermoset polyurethane instead of TPU, and used to produce components by open casting, centrifugal casting or compression casting. These components are widely used in almost every industries and applications where excellent wear and impact resistance are required. Hardness range is wide, color can be easily matched and PEPSEN can produce components with weight ranging from 1g to 500kg.
What are advantages of cast urethane elastomer components?
Idea for the most difficult wear applications
Cut and tear resistance
Impact resistance
High load bearing
Chemical and solvent resistant
Why you choose PEPSEN cast urethane elastomer components?
We design all polyurethane bushings and other mount parts using SolidWorks, or AUTOCAD. This assures all our designs will create the exact performance parts for your vehicles as OEM replacements.
In-house urethane prepolymer manufacturing
Special engineering formulations for vehicle industries
Hardness ranging from Shore 5A to 98A to 80D. Ester or Ether based
Over 30 stocked color options and customized colors available.
In House Machining Services to hold tight tolerances after casting.
Online Enquiry
Cast Urethane Elastomer Components