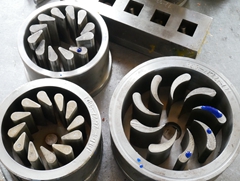 Common materials and main properties of cast polyurethane molds
Common materials and main properties When selecting mold materials, consider the source of the material, the price, and the size of the product batch. For large batches of products, high-quality materials should be selected; mold materials for small batches can be slightly worse. In fact, the most commonly used mold materials include carbon tool steel, carbon structural steel, alloy structural steel, alloy tool steel and aluminum.
(1) Carbon structural steel: Among carbon structural steel, 45# steel is the most widely used. The advantage of this kind of steel is: it has good cutting performance, and the quenching hardness can reach 48-55HRC. The disadvantage is that the deformation is large after heat treatment. 15#steel and 20#steel can be made into guide posts, guide sleeves and some other wear-resistant parts after carburizing and quenching.
(2) Carbon tool steel: Carbon tool steel is divided into high-quality steel and high-quality steel. The high-quality steels often used are: T7, T8, T10, T12 and other grades. The commonly used high-grade high-quality steels are: T7A, T8A, T10A, T12A and other grades. T8 and T10 in carbon tool steel are often used to make guide posts and guide sleeves. Sometimes it is also used to manufacture simple formed parts. The disadvantage of this type of steel is that it deforms greatly after heat treatment. Therefore, all parts made of this type of steel must be ground after heat treatment.
(3) Alloy structural steel There are many types of alloy steel. Chrome steel (40Cr), chromium-manganese-titanium steel (18CrMnTi), chromium-molybdenum steel (12CrMo), chromium-molybdenum aluminum steel (38CrMoAlA) are often used to make molds. Among them, 12CrMo and 38CrMoAlA are widely used. It is possible to manufacture molds whose main parts are the production of male and female molds. For some simple and large products, when the product batch is not large, cast iron or even low melting point alloy can be used to make molds.
(4) Atmospheric casting products   can use aluminum or aluminum alloy to make molds to reduce mold quality.
(5) Shrinkage rate "Shrinkage rate is defined as the ratio of the difference between the size of the mold cavity and the size of the corresponding part of the plastic part to the size of the mold cavity.
Prev New
Next New