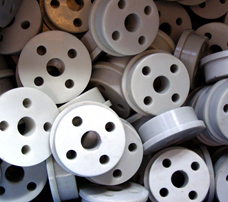 PEPSEN Polyurethane manufactures thousands of custom cast urethane bushings that are widely used in automotive and many other industries. The durability is approved by over 50 clients worldwide.
Urethane are used to replace plastic or rubber bushings because of their superior performance and long wear. In addition, these urethane auto bushings can be custom designed and formulated for each type of car/vehicle or usage. Hardness can be rigid or soft. Colors can be unique and selected by the client.
ü In-house prepolymer manufacturing
ü Hardness ranging from Shore 5A to 98A to 80D.
ü Over 30 stocked color options and customized colors available.
ü Economical tooling cost
ü In-house Machining for metal inserts and sleeves
Which Applications Can Urethane Bushings be Used?
ü Suspension Bushing
ü Truck Body Mount
ü Motor (Engine) Mounts
ü Track Bar Bushing
ü Engine Swap Mount Bracket Bushing Inserts
ü Shackle Bushings
ü Torsion Bar Mounts
ü Mount Bushings
ü Sway Bar End Link bushings
ü Leaf Spring Bushing
ü Control Arm Bushings
ü Bump Stops
Why Choose Us?
ü Quick response in 12 hours
ü In-house prepolymer manufacturing and outsourcing prepolymer available
ü Economical and high performance raw materials available
ü Strict analysis and testings on raw material before production
ü Assistance from first idea through prototype
ü First prototype inspection before volume production
ü Quick delivery of prototypes or production needs
ü Design assistance and parts consolidation
ü In-house mold design (Insert, polyurethane, urethane molding)
ü Over 15 years' experience of choosing application specific formulations
ü Custom formulated compounds
Online Enquiry
Custom Cast Auto Urethane Bushings