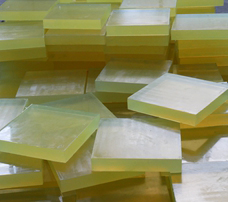 Since 1996, PEPSEN Polyurethane manufactures large scale custom cast urethane pad (or called polyurethane pad, urethane rubber pad, PU pad) with custom hardness, formulations, dimensions and colors in Shanghai China.
ü In-house prepolymer manufacturing
ü Several precision centrifugal machines for thin sheets and six ovens with casting table for thick ones (Max 2X4 meters)
ü Maximum Dimensions: 1000mm*4000mm, 1500mm*3000mm, 2000mm*4000mm
ü Hardness ranging from Shore 5A to 98A to 80D.
ü Standard hardness: 60A, 70A, 80A, 85A, 90A, 95A
ü Thickness:1mm,2mm,3mm,4mm,5mm,6mm ..10mm, 20mm, 25mm to 500mm
ü Tolerance: Length: +5/-0mm, Width: +5/-0mm, Thickness: +/- 5% or +/- 0.3 mm whichever is greater
ü Over 30 stocked color options and customized colors available.
ü Standard color: Red, yellow, blue, green, black, orange, transparent, amber, clear, white
ü Full Pad, Cut to Size
ü Pads are available with metal backing, expanded metal backing, and dual durometer Polyurethane.
ü Free sample available
ü Sample lead time: 3 days
ü Package: Pallet with sheet wrapped with plastic film, 600KG-900KG per pallet
ü Port of loading: Shanghai or on customer request
ü Payment: T/T,L/C,WU, MoneyGram
ü Supply ability: 80 tons per month
Which Applications Can Cast Urethane Pad be Used?
ü Gaskets, seals and rings
ü Solid Wheels and rollers
ü Pad and buffer
ü Shock absorber
ü Wear liner, wear strip
ü Conveyor belt skirt, wiper
ü Water-jet cut into custom parts
Which Application Specific Urethane Formulation Can We Offer?
ü Abrasion resistant
ü High rebound
ü Low compression set
ü High load capacity
ü High temperature
ü Excellent dynamic mechanical formulation
ü Oil resistance
ü Solvent resistance
ü Hydrolysis resistance
ü Fire retardancy, anti-static, antioxidant, mildew resistance, anti-aging, lubrication and many more…
Online Enquiry
Custom Cast Durable Urethane Pad