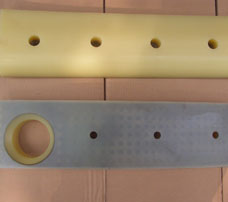 Shanghai Pepsen manufactures custom polyurethane bearing pad as per customer requirements including hardness, drawing or sketch or samples. Hardness is normally Shore 50A-98A-60D, but can vary as well as color.
What is polyurethane bearing pad?
Polyurethane is the wise choice for application where requires shock absorption and vibration dampening. As polyurethane has a broad hardness range, it can be used almost everywhere from shock/vibration absorbing, dampening bumpers or bumper pad applications.
Cast polyurethane bearing pad provide excellent load bearing capabilities with superior physical properties including tensile strength and tear resistance. Urethane bearings also outperform rubber in terms of abrasion resistance and resistance to ground level ozone.
One of the problems with rubber materials is their susceptibility to ground level ozone produced by the increasing number of automobiles or by electrical discharges. Over time rubber gradually cracks and deteriorates due to exposure to ozone.
What are advantages of PU bearing pad?
Collecting horizontal and vertical loads;
Countering rotations
Absorbing deformations.
Abrasion resistance
High load capacity
Protection from marring/galling
Noise abatement
Why you choose PEPSEN polyurethane bearing pad?
In-house urethane prepolymer manufacturing
Made from a specially formulated high resilience elastomer (polyurethane) with exceptional shock absorbing properties.
Hardness ranging from Shore 5A to 98A to 80D. Ester or Ether based
Over 30 stocked color options and customized colors available.
Online Enquiry
Custom Cast Polyurethane Bearing Pad