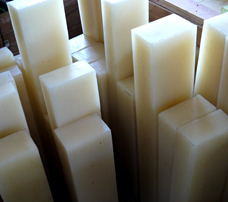 Since 1996, PEPSEN Polyurethane manufactures large scale custom cast Urethane Block (or called polyurethane rubber block, polyurethane block, polyurethane solid block) with custom hardness, formulations, dimensions and colors in Shanghai China.
ü In-house prepolymer manufacturing
ü Several precision centrifugal machines for thin sheets and six ovens with casting table for thick ones (Max 2X4 meters)
ü Maximum Dimensions: 1000mm*4000mm, 1500mm*3000mm, 2000mm*4000mm
ü Hardness ranging from Shore 5A to 98A to 80D.
ü Standard hardness: 60A, 70A, 80A, 85A, 90A, 95A
ü Thickness:1mm,2mm,3mm,4mm,5mm,6mm ..10mm, 20mm, 25mm to 500mm
ü Tolerance: Length: +5/-0mm, Width: +5/-0mm, Thickness: +/- 5% or +/- 0.3 mm whichever is greater
ü Over 30 stocked color options and customized colors available.
ü Standard color: Red, yellow, blue, green, black, orange, transparent, amber, clear, white
ü Full block, Cut to Size
ü Blocks are available with metal backing, expanded metal backing, and dual durometer Polyurethane.
ü Free sample available
ü Sample lead time: 3 days
ü Package: Pallet with sheet wrapped with plastic film, 600KG-900KG per pallet
ü Port of loading: Shanghai or on customer request
ü Payment: T/T,L/C,WU, MoneyGram
ü Supply ability: 80 tons per month
Which Application Specific Urethane Formulation Can We Offer?
ü Abrasion resistant
ü High rebound
ü Low compression set
ü High load capacity
ü High temperature
ü Excellent dynamic mechanical formulation
ü Oil resistance
ü Solvent resistance
ü Hydrolysis resistance
ü Fire retardancy, anti-static, antioxidant, mildew resistance, anti-aging, lubrication and many more…
Online Enquiry
Custom Cast Urethane Block