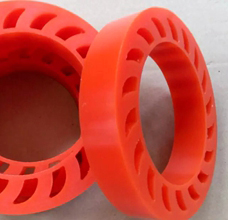 Shanghai Pepsen manufactures no crush wheels as per customer requirements including drawings or samples. Hardness is normally 50A-70A, but can vary as well as color.

What is No Crush Urethane Wheels?

No crush urethane wheel is one of versatile polyurethane products used for the corrugated board industry. It also known as zero crush wheel.

Manufactured in soft urethane, and flexible spokes structure allows it adapt to the different thickness of the corrugated board sheets, without crushing. The main application is to make the transfer of the corrugated board between different units of the machine easier and more efficient.

What are advantages of No Crush Urethane Wheels?

High coefficient friction

Excellent impact resistance

Excellent flexibility

Excellent abrasion resistance

Are there other applications urethane zero crush wheel & rollers can be used for?

There are several other different names— urethane zero crush rollers, spacer wheels, soft touch wheels, which can be used in a wide range of industrial applications that include:

Material handling

Corrugated cardboard manufacturing

Labeling

Bottling

Textile manufacturing

However, no crush rollers are appropriate for any use in which a flexible roller is required to protect a product, part, or component.