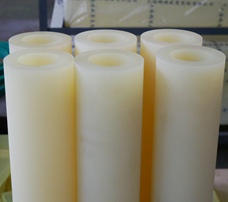 Since 1996, PEPSEN Polyurethane manufactures massive standard and custom cast Polyurethane Rubber Cylinder with custom hardness, formulations, dimensions and colors.
ü In-house prepolymer manufacturing
ü Custom formulation to replace Austrian Polyurethane semi-finished tube /rod for hydraulic seal machining
ü Hardness ranging from Shore 5A to 98A to 80D (very flexible as rubber band to very hard as bowling ball).
ü Ester or Ether based.
ü Little or no mold fee is required as we have most of them in stock.
ü Over 30 stocked color options and customized colors available.
ü In House Machining Services to hold tight tolerances after casting.
Which Application Specific Urethane Formulation Can We Offer?
ü Abrasion resistant
ü High rebound
ü Low compression set
ü High load capacity
ü High temperature
ü Excellent dynamic mechanical formulation
ü Oil resistance
ü Hydrolysis resistance
ü Fire retardancy , anti-static, antioxidant, mildew resistance, anti-aging, lubrication and many more
Online Enquiry
Custom Durable Polyurethane Rubber Cylinder