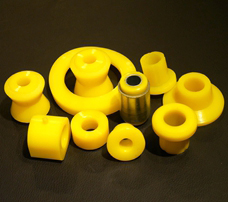 Shanghai Pepsen manufactures polyurethane suspension bushing as per customer requirements including hardness, drawing or sketch or samples. Hardness is normally Shore 70A-95A, but can vary as well as color.
What is polyurethane suspension bushing?
Suspension bushings are one of the most highly stressed components fitted to a motor car. They undertake enormous strains and stress in the harshest conditions with no maintenance or lubrication.
Old and soft rubber bushings cause incorrect geometry and excessive tire wear as well as braking instability
Bushings made of durable polyurethane that can improve car suspension.
It synchronizes automobile suspension system for optimal safety, handling and performance. They are the most positive link between vehicle's springs, struts or shocks.
What are advantages of polyurethane suspension bushing?
Extend life span of car tire
Noise absorbing
Decrease deflection
Increase responsiveness
Reduce braking distances
Improve performance
Can be made 25-30% stiffer than new rubber items
Why you choose PEPSEN polyurethane suspension bushing?
We design all polyurethane bushings and other mount parts using SolidWorks, or AUTOCAD. This assures all our designs will create the exact performance parts for your vehicles as OEM replacements.
In-house urethane prepolymer manufacturing
Special engineering formulations for vehicle industries
Hardness ranging from Shore 5A to 98A to 80D. Ester or Ether based
Over 30 stocked color options and customized colors available.
In House Machining Services to hold tight tolerances after casting.
Online Enquiry
Custom Durable Polyurethane Suspension Bushings