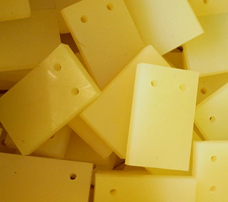 Shanghai Pepsen manufactures polyurethane damping plate as per customer requirements including drawings or samples. Hardness is normally 70A-90A, but can also be customized as well as color.
What is polyurethane damping plate?
Polyurethane damping plate is widely used as standard component for press die industry. We have many tools in stock, so there is no or limited tooling cost.
The main function is to decrease unwanted movement and vibration.
PEPSEN makes pre-polymer by ourselves using raw materials from Japan and German, which provide US quality and Chinese price.
What are advantages of polyurethane damping plate?
Made of application specific formulated polyurethane
Standard shapes and custom shape available
High performance polyurethane
Hardness and color can be customized for different projects
Durable and reduce down time
Online Enquiry
Custom Polyurethane Damping Plate