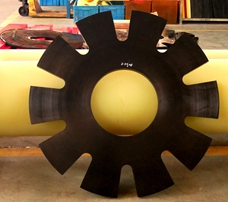 Shanghai Pepsen manufactures Custom Polyurethane Butterfly Disc for pipeline cleaning pig as per customer requirements including drawings or samples. Hardness is normally 85A, but can vary as well as color.
What is Custom Polyurethane Butterfly Disc?
Butterfly Discs enable the operator to run pigs in pipelines with changes in inside diameter and can be used in both Bi-Directional and Uni-Directional applications. The dimensions, hardness, color and formulation of the discs can vary to meet any special requirements.
What are advantages of PEPSEN Custom Polyurethane Butterfly Disc?
Made of application specific formulated polyurethane
Make pipeline pig extremely economical by replacing the entire assembly.
Resistant to various fluids such as oils.
Inside hole and bolt dimensions can be customized to fit all pig body, making them the ideal replacement cups and discs.
Cups are available in over 30 colors
How does Custom Polyurethane Butterfly Disc work ?
They provide support for pig body, firm seals and space between Cups and Discs for effective line scraping, cleaning and liquid removal.
Online Enquiry
Custom Polyurethane Pig Butterfly Disc