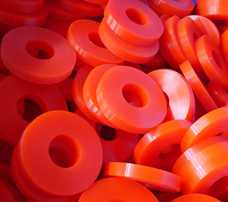 Shanghai Pepsen manufactures standard and custom polyurethane spacer as per customer requirements including drawings or samples. Hardness is usually 50A-70D, but can vary as well as color.
What is polyurethane spacer?
Urethane spacers are commonly used in many applications, the main function is to isolate vibrations from the connecting parts. They can be cast from wide hardness urethane, from softest Shore 20A to hardest Shore70D, besides, there are over 30 application specific polyurethane formulations for our engineer to choose, such as formulations special for anti-static, super wear resistance, hydrolysis resistance, oil and chemical resistance, high rebound, High temperature, and etc.
PEPSEN selects not only high performance polyurethane material but also economical one from renowned chemical companies to meet the quality requirements and reduce cost based it. We alse use many additives to improve lubricity, fire retardancy, antioxidant, mildew resistance, anti-aging of the urethane spacers. FDA requirements and drinking water testing are also no problem for urethane washer.
What are advantages of polyurethane spacer?
Super abrasion resistance.
Excellent resilience
Impact and shock absorption.
Oil and Solvent resistant
FDA accepted
Many tools in stock to avoid high tooling cost.
How does PEPSEN manufacture custom polyurethane spacer?
There are many different ways to produce them, depending on hardness, quantity, formulation and tolerance requirement.
The usual way is to mold them by open cast, pressures and temperatures in this process are low, so mold can be made from various materials and cost is low. If thickness tolerances are tight, turning operation is an option.
For some tiny, thin or complicated washers, we also compression mold them. The mold is then closed and placed on a plate vulcanization machine. Molds can be more expensive, but parts can be quite complicated and tolerance can be tight.
Some PU spacer can also be stamped from PU sheet or machined from PU tube.
Online Enquiry
Custom Polyurethane Spacer