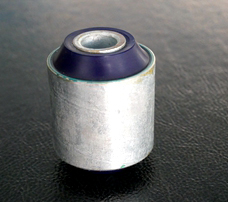 Shanghai Pepsen manufactures standard and custom polyurethane suspension silent block as per customer requirements including drawings or samples. Hardness is usually 80A-90A, but can vary as well as color.
What is polyurethane silent block?
Polyurethane silent blocks are commonly used in vehicles suspension systems, the main function is to absorb shock from car bodies. They are usually made of polyurethane bonded on steel insert or only solid polyurethane .The special formulation polyurethane for car industry extends the service life of this suspension parts.
PEPSEN selects not only high performance polyurethane material but also economical one from renowned chemical companies to meet the quality requirements and reduce cost.
What are advantages of polyurethane silent block?
Super abrasion resistance.
Oil and chemical resistance
Low and high temperature resistance.
Impact and shock absorption.
Noise abatement
Very durable
How does PEPSEN manufacture custom polyurethane silent block?
There are many different ways to produce them, depending on hardness, quantity, formulation and tolerance requirement.
If quantity is more than 100pcs, the usual way is to mold them by casting, otherwise, machining will be more cost-effective. It will increase material waste, but will save precision tooling cost. However, there also exceptions, if hardness is lower than 70A, and the shape is not suitable for making a clamp, machining will not be available.
Sometimes formulation is another factor we need to consider, some special formulations will have special MOQ and operation procedure.
Online Enquiry
Custom Polyurethane Suspension Silent Block