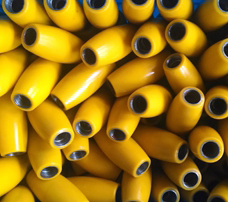 PEPSEN has been manufacturing thousands of custom Urethane Rollers for Mecanum Wheel (or called PU Rollers for Mecanum Wheel ).
The central axis could be steel or aluminum , they can be provided by customer or fabricated by our in-housing machining shop.
The PU/Urethane coated roller is fitted on the edge of the mecanum wheel in angle with its central axis, which can rotate freely around its central axis. The wheel relies on the friction that the roller acts on the ground to move. Because the material of its outer rim is polyurethane, it will deform under pressure
ü In-house prepolymer manufacturing
ü 10 meters lathe, 2X4 meters and 10 meters ovens
ü Sand-blasting equipment for small and big roller separately
ü Hardness ranging from Shore 5A to 98A to 80D.
ü Over 30 stocked color options and customized colors available.
ü Little or no mold fee is required as we have most of them in stock.
ü We can also strip off polyurethane from used rollers and recoating/recovering.
Which Application Specific Polyurethane Formulation Can We Offer?
ü Abrasion resistant
ü High rebound
ü Low compression set
ü High load capacity
ü High temperature
ü Excellent dynamic mechanical formulation
ü Oil resistance
ü Solvent resistance
ü Hydrolysis resistance
ü Fire retardancy , anti-static, antioxidant, mildew resistance, anti-aging, lubrication and many more…
Why Choose Us?
ü Quick response in 12 hours
ü In-house prepolymer manufacturing and outsourcing prepolymer available
ü Economical and high performance raw materials available
ü Strict analysis and testings on raw material before production
ü Assistance from first idea through prototype
ü First prototype inspection before volume production
ü Quick delivery of prototypes or production needs
ü Design assistance and parts consolidation
ü In-house mold design (Insert, polyurethane, urethane molding)
ü Over 15 years' experience of choosing application specific formulations
ü Custom formulated compounds
How to Get Precise Offer in 12 Hours?
n Drawing or sketch or sample
n Hardness range and tolerance
n Application or detailed working condition
n Quantity per order and per year
n Any other special requirements…
Online Enquiry
Custom Urethane Rollers for Mecanum Wheel