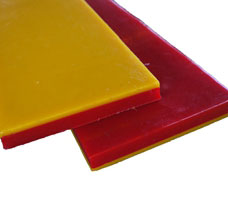 1)Custom u
rethane rubber sheet
casted by dual hardness urethane.
2)Durometer : Shore 5A -98A- 75D.
3)Standard color: Red,yellow,blue,green,black,orange,transparent,amber,clear,white and etc
4)Maximum Dimensions :1000mm*4000mm, 1500mm*3000mm, 2000mm*4000mm
5)Tolerance: Length: +5/-0mm ,Width: +5/-0mm, Thickness: +/- 5% or +/- 0.3 mm whichever is greater
6)Sheets are available with metal backing, expanded metal backing, and dual durometer Polyurethane.
7)High resistance to abrasion and impact.
8)Resistant to many chemical compounds
9)Oil and solvent resistant
Online Enquiry
Dual-Hardness Urethane Rubber Sheet