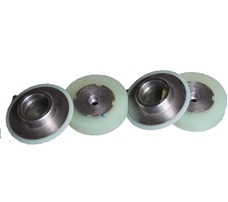 Encoder Measuring Polyurethane Wheel Roller
What is polyurethane encoder wheel roller?
Encoder wheels require high accuracy. The process of molding polyurethane has been developed to produce tight tolerance. Encoder wheels that are manufactured by Shanghai Pepsen have a tight tolerance .This perfect molded surface not only provides great friction, but also prevents the material from wearing and giving false readings from the encoder.
What are advantages of polyurethane encoder wheel roller?
It have high resolution
Very high friction
Very low wear
Non-maring
Much longer life span than rubber
Superior bonding strength
Why you choose PEPSEN polyurethane encoder wheel roller?
We has stock sizes available, but is also capable of making customized wheels in 2 weeks.
Pepsen polyurethane encoder wheels are available in a variety of sizes, colors, and durometers to meet any of your most demanding requirements.
We design all polyurethane products using SolidWorks, or AUTOCAD. In-house urethane prepolymer manufacturing
Hardness ranging from Shore 5A to 98A to 80D. Ester or Ether based
Over 30 stocked color options and customized colors available.
In House Machining Services to hold tight tolerances after casting.
Online Enquiry
Encoder Measuring Polyurethane Wheel Roller