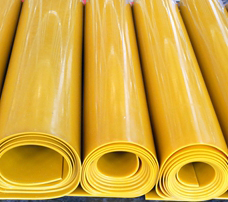 What is polyurethane D44 sheet?
D44 is famous brand in EU which are widely used in applications where high resistance to wear, mineral oils, greases, and fuels is required. These advantages make the D44 idea material to be used in numerous applications in the industry.
PEPSEN Equivalent Polyurethane D44 PUR Sheet has been approved by many customer is Northern EU such as Denmark, Sweden and German.
Hardness is normally Shore70A, 80A, 90A, but can be customized as wide as to Shore20A-60D.
Max dimension can be 1x4meter, 1.5x3meter, depending on thickness and hardness.
There are two centrifugal machines and five platform ovens those enable us making polyurethane elastomer sheet with precise thickness and reduce lead time.
What are advantages of polyurethane D44 sheet?
Ozone and weather resistance
Great hydrolysis-resistance
Idea for the most difficult wear applications
Dimensional accuracy
Chemical and solvent resistant
What applications can polyurethane D44 sheet be used in?
Washer, seal, discs, gaskets,
Spring, buffer
Scrapers, squeegee, strip
Gear
Also available cut to size or cut according to drawing.
Online Enquiry
Equivalent Polyurethane D44 PUR Sheet