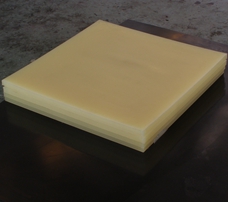 Shanghai Pepsen manufactures standard and custom super abrasion resistant and heat resistant urethane sheets and parts as per customer requirements including drawings or samples. Hardness is normally Shore 65A-60D. Urethane Sheets made of Vulkollan equivalent material is about 6-8 times more abrasion-resistant than the normal urethane and it can work for a long time under temperature up to 135 degree C (normal urethane withstands up to 80°C) and work in short period under temperature up to 165 degree C (normal urethane withstands up to 120°C).
What is highly abrasion resistant and heat resistant urethane Vulkollan equivalent sheet?
Vulkollan® is a trade mark of Covestro AG. It is known as "king of urethanes". It is a super abrasion resistant urethane which is far superior to conventional urethanes in abrasion resistance and dynamic properties.
Vulkollan has only one exclusive agent in China, and the cost is very high.
In 2004, PEPSEN developed and researched replacement of Vulkollan successfully. (This cross-linked elastomer comprises polyols (ester) with diisocyanates – naphthalene diisocyanate (NDI).)
Over 60 customers from China and abroad use our NDI-Polyester sheet and parts and replace Vulkollan successfully, while the cost is much lower. Some of them are from World Fortune 500 and Volkswagen is one of them.
What are advantages of Vulkollan equivalent urethane Sheet?
Withstands high dynamic loads.

Super abrasion resistance.

High temperature resistance.

Very low permanent deformation

High elasticity even for hard hardness

Good resistance to UV radiation, ozone, fats and oils.
Why Vulkollan equivalent urethane products always looks brown?
The natural color of Vulkollan equivalent urethane is white, but it will change to yellow/brown very quickly. Under ultra violet light, the color will change to dark/black. Changes of colour, even unequal, will not affect the quality. Normally no colorants will be added to Vulkollan equivalent urethane.
Typical applications:
Wheels and rollers
Dampers, shock absorbers, vibration dampers
Sliding strip
Cutting sticks
Seals, washer
Scraper, Wipers
Online Enquiry
High Abrasion Resistant and Heat Resistant Urethane Vulkollan Equivalent Sheets