S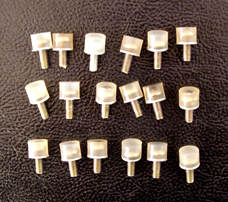 hanghai Pepsen manufactures custom threaded polyurethane bumpers as per customer requirements including drawings or samples. Hardness is normally 50-95A, but can vary as well as color.
What is threaded urethane bumper?
Urethane bumpers are made of steel core covered by urethane. They are widely used as feet, spacers, and vibration dampers, they absorb shock to prevent damage to equipment and surfaces. They're also good for starting and stopping motion on automated machines. Hard Bumpers can withstand high levels of impact. Soft urethane and very soft urethane offer cushioning. The softer the bumper, the more it cushions.
Bumpers with a medium hardness urethane offer a balance of cushioning and impact resistance.
Polyurethane bumpers have better abrasion resistance than other rubber bumpers. They won't become brittle and crack when exposed to ozone.
What are advantages of threaded polyurethane bumper?
Outstanding abrasion, impact, cut and tear resistance
Oil and Chemical resistance
High load capacity and low compression set
Non-marking, non-marring
Tearing and weather-related aging
Why you choose PEPSEN to make threaded urethane bumper?
We have much experience of design threaded urethane bumper
In-house urethane prepolymer manufacturing
Made from a specially formulated high resilience elastomer (polyurethane) with exceptional shock absorbing properties.
Hardness ranging from Shore 5A to 98A to 80D. Ester or Ether based
Over 30 stocked color options and customized colors available.
Online Enquiry
Misumi Round Urethane Threaded Bumper