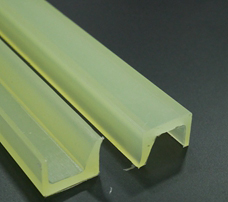 Shanghai Pepsen manufactures urethane dunnage as per customer requirements including drawings or samples. Hardness is normally 5A-98A, but can vary as well as color.
What is urethane dunnage?
Custom cast polyurethane dunnages provide vibration and shock protection for vulnerable parts .
Urethane dunnage is used to hold and protect heavy-duty and fragile parts by absorbing energy during storage and transportation. The soft urethane dunnage part is normally used to cushion pieces made of glass or ceramic, hard durometer urethane dunnage parts are made so that a part can be held in a positive firmly. Besides, urethane dunnage can be used as fixtures, jigs, and kitting to reduce harm to workers.
What are advantages of urethane dunnage?
Sold urethane provide additional abrasion resistance
High load bearing capacity
Non marking
Longer service life
Noise abatement
Durable and reduce down time
Which applications can urethane dunnage be used for?
Automotive packing
Defense / Military
Heavy duty construction, trucking, and agricultural equipment
Industrial
Lawn and power equipment
Marine