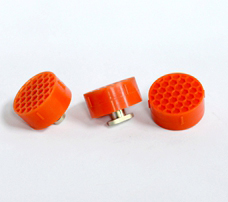 Shanghai Pepsen manufactures custom Non-Slip urethane gripper pads as per customer requirements such as hardness, drawing and working environment. Hardness is normally Shore 45A-95A-60D, but can be customized as well as color.
What is urethane gripper pad?
Urethane grippers are replaceable pads that provide firmly and reliable holding force for applications such as clamping arms, gripping systems, clamping jaws, clamping fixtures and self-aligning pads. The grippers designed and produced by PEPSEN have urethane permanently bonded to a steel insert and bolt. This non-marking, non-staining urethane provides excellent protection against damage to finished work pieces.
What are advantages of urethane gripper pad?
Abrasion resistance
Cut and tear resistance
Impact resistance
Higher load bearing
Cost effective, reduce down time
Non-marking
Reduced noise level
Ester based and ether based polyurethane available
Strong bonding properties with Steel, Stainless, Aluminum, Rubber and Plastic
Why you choose PEPSEN urethane gripper pad?
Our experienced engineering staff who work in this field over 20 years can help from idea to bulk products.
Many tools in stock, little tooling cost
Application specific formulations that meet needs for tough working conditions.
Hardness ranging from Shore 5A to 98A to 80D. Ester or Ether based
Over 30 stocked color options and customized colors available.
Online Enquiry
Non-Slip Molded Urethane Gripper Pads