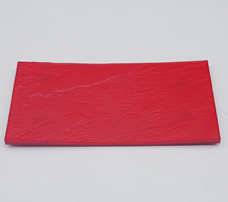 OXFORD STONE 2' X 2' Concrete Stamp Mats

Decorative concrete stamp is also called concrete stamp, concrete stamp mat and imprint concrete stamp mat, it mainly includes urethane texture mat, floppy and urethane texture skin. They are used together with other materials such as color hardener, release agent and sealing agent to create nature texture on concrete. These textures include imitation stone, imitation wood grain, imitation brick type and etc. In specific, there are natural European fan-shaped pebble, square brick, small gravel, riprap, granite, marble, London pebble, etc.
Shanghai Pepsen produces stamping mold by urethane, urethane (PU) is commonly known as most abrasion resistance material. Pepsen adopts the unique mould design and the mould material, which has the characteristics of lifelike effect, tight joint, good toughness, no extrusion joint, good joint, impact resistance, no damage, and deformation and UV resistance after repeated stamping. According to the specific requirements of customers, we can customize the mold to create a unique style of the project.
These concrete stamp molds are developed through technical cooperation with American manufacturers. The stamps are exported to many countries and regions, such as the United States, Canada, Japan, Europe, Africa, Asia, etc., and truly achieve the "European and American quality, Chinese price".
Hundreds of specifications, manufacturers direct sales, special price! For details, please contact us!
Online Enquiry
OXFORD STONE 2' X 2' Concrete Stamp Mats