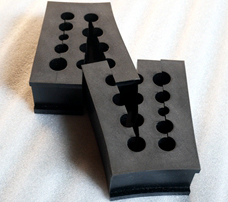 Shanghai Pepsen manufactures Polyurethane Cable Clamp Block as per customer requirements including drawings or samples, hardness and working environment.
What Is Polyurethane Cable Clamp Block?
Literally, it is polyurethane block used to clamping cable. They usually have holes, grooves or other shapes, for mounting different cables. Hardness, color, shapes and formulation can be customized according to needs and working environment. Many additives such as fire retardant and anti-static agent can be mixed with compounds to meet specific working condition.
What are Advantages of Polyurethane Cable Clamp Block?
Made of durable polyurethane
Impact, tear and abrasion resistant
Will not split under tension
Good resistant to many chemicals and fuels
Easy for installation
Which application and industries is polyurethane Cable Clamp Block?
Cables and pipelines are normally vulnerable and costly (underground, underwater)
The main function is to fix the cable, make it stable, and protect it from being damaged, it is also helpful to identification and marking.
They are widely used on marine and offer industry, helicopter, fishing industry and machining industry.
Online Enquiry
Polyurethane Cable Clamp Blocks