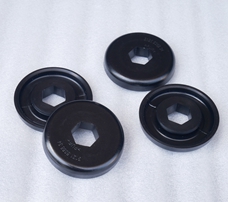 Shanghai Pepsen manufactures polyurethane drill steel gaiter as per customer requirements including drawings or samples. Hardness is normally 85A, but can vary as well as color.
What is polyurethane drill steel gaiter?
Drill steel is easily damaged during application.
It is designed to protect drill steel from scratching, chipping, marring and scuffing.
Drill steel gaiter is used as cover and protector for drill steel. Molded from application specific formulated polyurethane and second precision machining make it fit right over drill steel.
What are advantages of PUR drill steel gaiter?
Increase life span of drill steel
Outstanding abrasion, impact, cut and tear resistance
Oil and Chemical resistance
High load capacity and low compression set
Non-marking, non-marring
Why you choose PEPSEN to polyurethane drill steel gaiter?
Low tooling cost
Application specific formulations that meet needs for tough working conditions.
Hardness ranging from Shore 5A to 98A to 80D.
Ester or Ether based
Over 30 stocked color options and customized colors available.
Online Enquiry
Polyurethane Drill Steel Gaiter