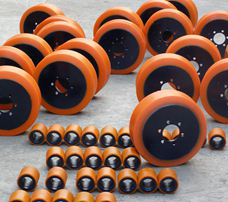 Custom Polyurethane Forklift Wheels
Shanghai Pepsen manufactures custom polyurethane forklift wheels as per customer requirements including hardness, drawing or sketch or samples. Hardness is normally Shore 80A-98A-60D, but can vary as well as color.
What is polyurethane forklift wheels?
Polyurethane wheels are widely used on material handling industries, and electric forklift is one of the most popular applications.
Based on functions, polyurethane forklift wheels can be classified into support wheel, drive wheel, load wheel, press-on wheel and heavy duty wheel.
Based on formulations, there are normal formulated forklift wheels, high performance ones and Vulkollan equivalent ones.
What are advantages of polyurethane forklift wheels?
Abrasion resistance
Hydrolysis resistant
Minimal rolling resistance
Low compression set
Cut and tear resistance
High load capacity
Non-marking
Low-noise
Why you choose PEPSEN polyurethane forklift wheels?
We provide various new forklift wheel or refurbish old wheels for brands such as Linde, Crown, Hyster, Nitchiyu, Raymond, Toyota and Yale
In-house urethane prepolymer manufacturing
Application specific formulations that meet needs for different working conditions.
Hardness ranging from Shore 5A to 98A to 80D. Ester or Ether based
Over 30 stocked color options and customized colors available.
Online Enquiry
Polyurethane Forklift Wheels