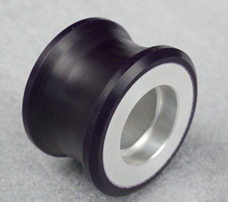 Shanghai Pepsen has been manufacturing Polyurethane U Groove Wheels since 2004.
Pepsen tight control of wheel core sandblasting and surface cleaning process ensure polyurethane is strong and chemically bonded to wheel core.
ü In-house prepolymer manufacturing
ü Lathe for Max 1 meter diameter wheels, 2X4 meters and 10 meters ovens
ü Wheel cores could be metal, plastic, rubber, composite material and etc
ü Sand-blasting equipment for small and big wheels separately
ü Hardness ranging from Shore 5A to 98A to 80D.
ü Over 30 stocked color options and customized colors available.
ü Little or no mold fee is required as we have most of them in stock.
ü We can also strip off polyurethane from used wheels and recoating/recovering.
Which Applications Can Polyurethane Wheels be Used?
ü Drive wheel
ü Conveyor wheels
ü Idler wheels
ü Guide wheels
ü Load wheels
ü Zero-Crush Wheels
ü Pulley Wheels
ü Swivel Wheels
ü Rail Wheels
ü Track Wheels
ü Measuring Wheel
ü Flange Wheels
ü Solid Wheels
ü Press-on Wheel
Which Application Specific Polyurethane Formulation Can We Offer?
ü Abrasion resistant
ü High rebound
ü Low compression set
ü High load capacity
ü High temperature
ü Excellent dynamic mechanical formulation
ü Oil resistance
ü Solvent resistance
ü Hydrolysis resistance
ü Fire retardancy , anti-static, antioxidant, mildew resistance, anti-aging, lubrication and many more…
Why Choose Us?
ü Quick response in 12 hours
ü In-house prepolymer manufacturing and outsourcing prepolymer available
ü Economical and high performance raw materials available
ü Strict analysis and testings on raw material before production
ü Assistance from first idea through prototype
ü First prototype inspection before volume production
ü Quick delivery of prototypes or production needs
ü Design assistance and parts consolidation
ü In-house mold design (Insert, polyurethane, urethane molding)
ü Over 15 years' experience of choosing application specific formulations
ü Custom formulated compounds
How to Get Precise Offer in 12 Hours?
ü Drawing or sketch or sample
ü Hardness range and tolerance
ü Application or detailed working condition
ü Quantity per order and per year
ü Any other special requirements…
Online Enquiry
Polyurethane U Groove Wheels