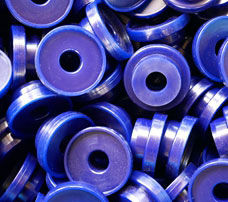 Shanghai Pepsen manufactures polyurethane motor mounts and bushing as per customer requirements including hardness, drawing or sketch or samples. Hardness is normally Shore 70A-95A, but can vary as well as color.
What is polyurethane motor mount?
If an engine that is not mounted on motor mounts that can handle the torque, the engine would potentially overload a traditional motor mount with power and damage it. Polyurethane is the ideal choice to avoid this.
What are advantages of urethane motor mount?
Idea for the most wear applications
Oil and chemical resistance
Impact resistance
Engineered to meet or exceed OE requirements
Much longer life span than rubber
Superior bonding strength
Why you choose PEPSEN polyurethane motor mount?
We design all polyurethane motor mounts using SolidWorks, or AUTOCAD. This assures all our designs will create the exact performance parts for your vehicles as OEM replacements.
In-house urethane prepolymer manufacturing
Special engineering formulations for vehicle industries
Hardness ranging from Shore 5A to 98A to 80D. Ester or Ether based
Over 30 stocked color options and customized colors available.
In House Machining Services to hold tight tolerances after casting.