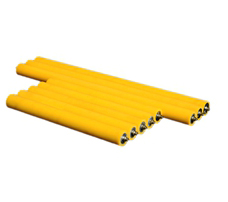 Shanghai Pepsen manufactures customized polyurethane nip roller as per customer requirements such as hardness, drawing and working environment. Hardness is normally Shore 5A-98A-65D, but can be customized as well as color.
What is polyurethane nip roller?
Nip rollers are used to press two or more sheets together to produce a laminated product. The high pressure created at the nip point force the sheets into intimate contact, and can squeeze out any bubbles or blisters that might cause a defective bond. Nip rolls are also called laminating rolls, laminators, squeeze rolls, pinch rolls or even wringers. Polyurethane is an ideal choice under this working environment including high wear, high pressure, oil and chemical,
What are advantages of polyurethane nip roller?
Extremely high bond strength
Idea for the most difficult wear applications
Cut and tear resistance
Impact resistance
High load bearing
Available in a variety of roll finishes.
Why you choose PEPSEN to make urethane nip roller?
Urethane nip rolls manufactured by Pepsen with high concentricity and without defects or bubbles those can avoid any gap between main roll and nip roll.
Many tools in stock, little tooling cost
Application specific formulations that meet needs for tough working conditions.
Hardness ranging from Shore 5A to 98A to 80D. Ester or Ether based
Over 30 stocked color options and customized colors available.
Size: Diameter Up To 900 mm
Length: Up To 12000 mm