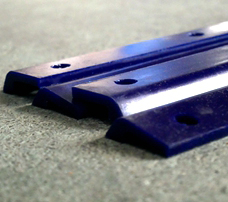 Shanghai Pepsen manufactures custom polyurethane cutting stick as per customer requirements including drawings or samples. Hardness and formulation can be customized as well as color. Vulkollan equivalent material is available.
What is polyurethane cutting stick?
Polyurethane cutting sticks are used as blade protection in the cutting of paper, polythene, Web Offset and card, the cutting sticks give very good resistance to the cutting knife.
PEPSEN makes pre-polymer by ourselves using raw materials from Japan and German, which provide US quality and Chinese price.
Changing cutting sticks regularly will extend the lifetime of cutter.
What are advantages of polyurethane cutting stick?
Made of application specific formulated polyurethane
Standard shapes and custom shape available
Economical but abrasion resistant polyurethane available
Ultra cutting and abrasion resistant Vulkollan equivalent polyurethane available
Hardness and color can be customized for different projects
Radius, chamfers, holes, slots and grooves are available
How does polyurethane cutting stick work?
The polyurethane cutting sticks are fitted into the slot of cutting table of the machine cutter. Cutting knife penetrates the cutting stick at the end of its down stroke with results in a clean, cut from the first to the last sheet of the paper pile precisely. Suitable rotation and replacement of the cutting sticks will prolong the life of your paper cutter.
Online Enquiry
Polyurethane Paper Cutting Sticks