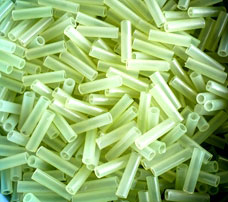 Shanghai Pepsen manufactures polyurethane hollow round rod as per customer requirements including hardness, dimensions and applications. Hardness is normally 50A-98A-80D, but can vary as well as color.
What is polyurethane hollow round rod?
They are used as spring, sleeve, bushing and shock absorber. They also can be cut into disc , washer and seal.
They can be molded or machined depending on hardness, tolerance requirement and quantity.
Both Metric and inch size are available.
Our experienced sales engineer will choose most cost effective way for you according to your specific circumstance.
What are advantages of polyurethane hollow round rod?
Abrasion resistance
Great resilience
High load capacity
Protection from marring/galling
Longer service life
Noise abatement
Vibration damping and shock absorbing
Why you choose PEPSEN PUR hollow round rod?
In-house prepolymer manufacturing
Custom hardness, dimensions and formulations
Hardness ranging from Shore 5A to 98A to 80D. Ester or Ether based
Little or no mold fee is required as we have most of them in stock.
Over 30 stocked color options and customized colors available.
In House Machining Services to hold tight tolerances after casting.