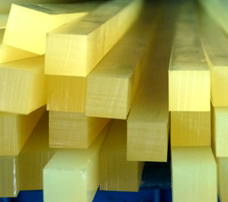 Shanghai Pepsen manufactures standard and custom polyurethane rectangle and square bars as per customer requirements including drawings or samples. Hardness is normally 5A-98A-8D, but can vary as well as color.
What are polyurethane rectangle and square bars?
Polyurethane rectangle and square bars are widely used as wear strip, blade, scraper and buffer. They can be machined from sheet or made by open casting mold and compression casting mold. The surface finish of two sides of machined ones are different, so do ones by open casting mold. The ones can also be made by compression mold casting, the surface finish is uniform and the tight tolerance can be met.
What are advantages of polyurethane rectangle and square bars?
Excellent cut and abrasion resistance.
High load capacity
Very low compression set
Impact and shock absorption.
Oil and chemical resistant
Why you choose PEPSEN to make polyurethane rectangle and square bars??
In-house polyurethane prepolymer manufacturing
Made from a specially formulated high resilience elastomer (polyurethane) with exceptional abrasion and impact resistance.
Inches and Metric sizes available
Custom shapes and sizes are available
Hardness ranging from Shore 5A to 98A to 80D. Ester or Ether based
Over 30 stocked color options and customized colors available.
Online Enquiry
Polyurethane Rectangle and Square Bars