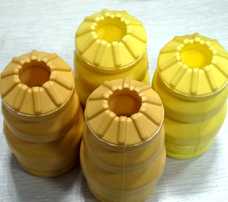 With our over 20 years' experience of producing custom polyurethane products, you can. Our shock absorbers offer remarkable physical properties especially for high impact resistance.
What Is Polyurethane Shock Absorber Bumper?
Polyurethane is the ideal material for Shock Absorption and Vibration Damping
A "shock" happens when two things collide. The energy created can cause damage to the affected items and ultimately, cause downtime and waste. Polyurethane Shock Absorber Bumper is used to reduce this damage and protect involved items.
How Are Urethane Shock Absorbers Used?
Urethane shock absorbers effectively and safely disperse and absorb energy. Energy dissipates outward, away from the source of the shock impact, so that the object or the object's internal components are not damaged. Urethane shock absorbers can come in wide hardness, shapes and formulations. They are used in many applications, including grommets, pads, dampers, bumpers, bushings, sheets, rings, hemispheres, and etc.
Advantages to Urethane Shock Absorbers bumper?
Urethane shock absorbers are often utilized in applications where corrosion, vibration, and magnetism prevent the use of conventional steel springs. In many applications, urethane shocks are chosen as they do not degrade when exposed to oil, grease, smog, or ozone. Urethane is renowned for its vibration damping, shock absorbance, and abrasion resistance. It takes little permanent set when compressed.
Online Enquiry
Polyurethane Shock Absorber Bumper