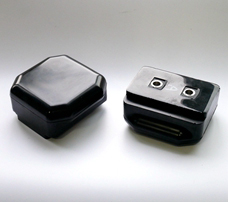 Shanghai Pepsen manufactures standard and custom polyurethane support block as per customer requirements including drawings or samples. Hardness on one side is usually 45A, 98A-65D on another side, but can vary as well as color.
What is polyurethane support block for pig slaughter lines?
Polyurethane support block is used on primary process machinery for pig slaughter lines. Hard polyurethane coated on metal is used for fixing and supporting. The soft urethane is used to relief pig, so the meat will be more delicious.
What are advantages of polyurethane support block?
Soft side make pig feel comfortable
Hard side and metal insert for fixing and supporting
Much better abrasion resistance than rubber
Impact and shock absorption.
Water resistant
Reduce noise significantly.
Many tools in stock to avoid high tooling cost.
How did PEPSEN develop polyurethane support block succefully?
This support block was originally made in Holland. On 2006, we started to develop this product when there was no factory in China who can make dual hardness urethane, not to with metal parts inside, the 45A urethane will become harder when it had been used for some time, so it lost function of relieving pig. After many tests of new formulations, PESEN developed a new formulation and resolve this problem successfully.