Shanghai Pepsen manufactures custom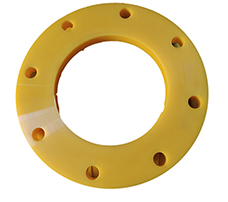 as per customer requirements including drawings or samples. Hardness is normally 80-90A, but can vary as well as color.
What is polyurethane transition spacer?
Polyurethane washers have a good effect in preventing scratches and cracks of the workpiece during tightening; shock absorption and vibration reduction, and anti-vibration. Transparent polyurethane as an appearance part has a special effect that is more inconspicuous when used in assembly. Polyurethane transition spacersare used to joint pipe fittings
What are advantages of polyurethane transition spacer?
1: Compared with rubber, polyurethane has a wider choice of hardness, is softer and more elastic, and has a certain degree of air tightness.
2: Polyurethane is very excellent in mechanical strength, and it is widely used to prevent scratches and cracks that occur when brittle objects such as glass and acrylic are fastened.
3: It is not easy to transmit vibration and sound, and it can be used when tightening screws to achieve a certain degree of cushioning and tightening effect.
4: Polyurethane has low dust-generating properties, and because it does not contain carbon, it is a material that is not prone to color transfer. (Only natural colors)
5: According to different working conditions, the corresponding product types are very rich
Why you choose PEPSEN to make polyurethane transition spacer?
We have much experience of designing and manufacturing polyurethane transition spacer
In-house polyurethane prepolymer manufacturing
Made from a specially formulated high resilience elastomer (polyurethane) with exceptional shock absorbing properties.
Hardness ranging from Shore 5A to 98A to 80D. Ester or Ether based
Over 30 stocked color options and customized colors available.
Online Enquiry
Polyurethane Transition Spacer for Pipe and Fittings