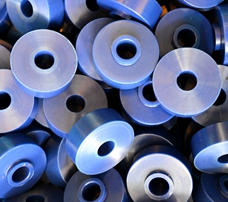 What is polyurethane transmission torque arm bushings?
These do replace the stock torque mount rubber pads. The stock mounts are just plain rubber pucks. The polyurethane replacements are cast with a tapered cone on one side. These polyurethane bushings will last the life of your vehicles and help keep the transmission mount in place so the power transfer from the engine to the wheels stays smooth.
They are the balance between flexible rubber and metal connections. Polyurethane bushings will hold the torque arm firm but without the extreme harshness of a solid metal connection and won't place undue strain on other components.
Comparing to rubber, polyurethane bushings have a longer lifespan and aren't affected by oil and chemicals that can break down rubber bushings.
What are advantages of urethane transmission torque arm bushing?
Extend life span of car tire
Noise absorbing
Decrease deflection
Increase responsiveness
Reduce braking distances
Absorb vibration and last much longer than rubbe
Precision fabrication assures perfect fit
Provides necessary rigidity
Why you choose PEPSEN polyurethane transmission torque arm bushing?
We design all polyurethane bushings and other mount parts using SolidWorks, or AUTOCAD. This assures all our designs will create the exact performance parts for your vehicles as OEM replacements.
In-house urethane prepolymer manufacturing
Special engineering formulations for vehicle industries
Hardness ranging from Shore 5A to 98A to 80D. Ester or Ether based
Over 30 stocked color options and customized colors available.
In House Machining Services to hold tight tolerances after casting.
Online Enquiry
Polyurethane Transmission Torque Arm Grommet/Bushing