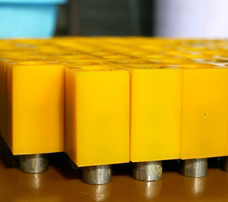 Shanghai Pepsen manufactures customized polyurethane vibration damper as per customer requirements such as hardness, drawing and working environment. Hardness is normally Shore 0A-98A,-85D but can be customized as well as color.
What is polyurethane vibration damper?
Vibration control plays an important role in many industries where many moving parts and friction are involved. Unnecessary vibrations can cause noise, machine will break down more quickly and stop working eventually.
Good dynamic properties of polyurethane as well as its high load capacity make it an ideal choice for versatile vibration damping applications.
What are advantages of urethane vibration damper?
Noise abatement
Impact resistance
Idea for the most difficult wear applications
Cut and tear resistance
Oil resistance,
Weather resistance and aging resistance
Superior bonding strength
What kinds of polyurethane vibration dampers?
Anti-vibration mats, pads, sheets
Anti-vibration mounts
Anti-vibration bushings, bumpers
Anti-vibration feet
Anti-vibration washers
Online Enquiry
Polyurethane Vibration Damper