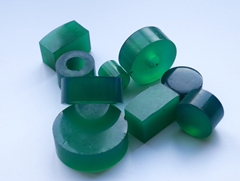 Raw materials and compounding agents of polyurethane
CPU is prepared by reaction of oligomer polyol, polyisocyanate and chain extender.
Polyester and polyether are commonly used as oligomer polyols. Polycaprolactone is rarely used, while polybutadiene, polycarbonate and other polyols are less used. They are only used for some special purposes. Polyester is mainly used in wear-resistant and oil-resistant products. Common polyether (PPG) is mainly used in low hardness, low modulus products and room temperature curing products, such as paving materials, mold adhesives, etc. PTMG is mainly used for high-pressure sealing and water-resistant, wear-resistant and low-temperature resistant products. COPOLYETHERS are mainly used for encapsulation of electronic components.
Among the polyisocyanates, TDI and MDI are mainly used, while NDI, PPDI, chdi, Todi and other isocyanates are rarely used due to their high prices. In developed countries, especially in Europe, the consumption of MDI in traditional CPU products has already exceeded TDI, but TDI is still the main one in China. T-80 is mainly used for room temperature curing products, such as paving materials. T-100 is mainly used for hot vulcanization molding products. Among the chain extenders, aromatic diamines and alcohol amines are mainly used for TDI prepolymers, while aliphatic diamines (such as amino terminated polyether) are mainly used for spraying polyurea. Small molecular polyols are mainly used in prepolymers such as MDI, NDI and PPDI.
In addition, catalyst is needed for room temperature curing system (except spray polyurea), antioxidant and ultraviolet absorber are needed for outdoor products, hydrolysis stabilizer and mildew inhibitor are needed for polyester polyurethane in humid and hot environment.
Prev New
Next New