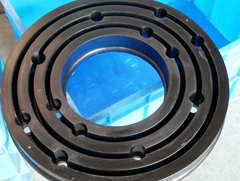 The flexibility of polymer molecules is the reason of high elasticity. However, due to the large number of polar groups in the molecular structure of polyurethane elastomers, the large molecular internal force and intermolecular force, together with other factors that may hinder the free rotation of single bond, the stress-strain of polyurethane elastomers cannot achieve instantaneous balance, showing the viscoelastic properties of polymers, that is, the polymers have both viscosity and elasticity under the action of external force Quality.
This viscoelastic property of elastomer shows creep under fixed stress, stress relaxation under fixed deformation and hysteresis under alternating stress. The more flexible the molecular chain, the better the resilience, the worse the damping and damping, and the less build-up heat. In addition, resilience and viscoelasticity are related to service temperature. With the decrease of service temperature, resilience decreases and viscoelasticity increases.
Polyurethane elastomer can also improve the damping temperature range and loss factor of polyurethane damping materials by blending with other polymer materials or by copolymerization and interpenetrating networks.
Prev New
Next New