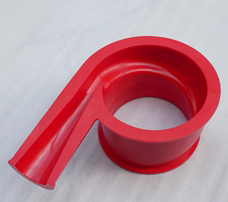 Shanghai Pepsen manufactures custom polyurethane feed chamber liner as per customer requirements such as hardness, drawing and working environment. Hardness is normally Shore 5A-80D, but can be customized as well as color.
What is custom polyurethane feed chamber liner?
It is used as wear parts for the slurry pump. It forms a pump chamber with frame plate liner and throat bush to contact with slurries, As one of main wetted parts, cover plate liner is very easily worn-out components as it works under long-time impact of abrasive and corrosive slurries in the high speed conditions, so the material is very important part, because it decides to lifetime of complete pump.
What are advantages of custom polyurethane feed chamber liner?
Suitable for pumping with high corrosion
Idea for the most difficult wear applications
Dimensional accuracy
Chemical and solvent resistant
Water resistance
Low hydraulic resistance
Long service life.
Are there other polyurethane hydrocyclone liners products?
- Spigot housing
- Vortex Finders
- Feed Chamber Liner
- Overflow Pipes Liner
- Outlet and Inlet Cone and Cylinder Parts
- Cover Plate Liner
Online Enquiry
Slurry Pump Custom Polyurethane Feed Chamber Liner