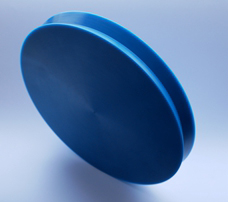 What is urethane disk?
Urethane disks are widely used in shock absorbing application and cleaning industry, such as pipeline, bridge and wastewater treatment.
The main function is to decrease unwanted movement and vibration.
Comparing to rubber ones, polyurethane disks have a much longer lifespan.
What are advantages of polyurethane disk?
High load bearing
No marring/galling
Oil and solvent resistance
Noise abatement
Vibration damping and shock absorbance
Why you choose PEPSEN polyurethane disk?
In-house urethane prepolymer manufacturing
Special engineering formulations for vehicle industries
Hardness ranging from Shore 5A to 98A to 80D. Ester or Ether based
Over 30 stocked color options and customized colors available.
In House Machining Services to hold tight tolerances after casting.
Online Enquiry
Sold Cast Polyurethane Disk