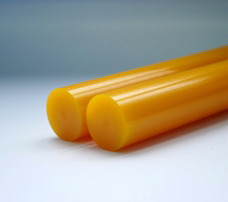 Since 1996, PEPSEN Polyurethane manufactures massive standard and custom cast polyurethane rods (or called PU rods, urethane rods, polyurethane rubber rods) with custom hardness, formulations, dimensions and colors.
ü In-house prepolymer manufacturing
ü Hardness ranging from Shore 5A to 98A to 80D. Ester or Ether based
ü Little or no mold fee is required as we have most of them in stock.
ü Over 30 stocked color options and customized colors available.
ü Standard color: Red, yellow, blue, green, black, orange, transparent, amber, clear, white
ü In-house Machining Services to hold tight tolerances after casting.
Which Applications Can Polyurethane Rod be Used?
ü Gaskets, seals and rings
ü Wheels and rollers
ü Buffer ,Shock absorber
ü Bushings, bumpers
ü Springs
Which Application Specific Polyurethane Formulation Can We Offer?
ü Abrasion resistant
ü High rebound
ü Low compression set
ü High load capacity
ü High temperature
ü Excellent dynamic mechanical formulation
ü Oil resistance
ü Hydrolysis resistance
ü Fire retardancy , anti-static, antioxidant, mildew resistance, anti-aging, lubrication and many more…
Why Choose Us?
ü Quick response in 12 hours
ü In-house prepolymer manufacturing and outsourcing prepolymer available
ü Economical and high performance raw materials available
ü Strict analysis and testings on raw material before production
ü Assistance from first idea through prototype
ü First prototype inspection before volume production
ü Quick delivery of prototypes or production needs
ü Design assistance and parts consolidation
ü In-house mold design (Insert, polyurethane, urethane molding)
ü Over 15 years' experience of choosing application specific formulations
ü Custom formulated compounds
How to Get Precise Offer in 12 Hours?
ü Drawing or sketch or sample
ü Hardness range and tolerance
ü Application or detailed working condition
ü Quantity per order and per year
ü Any other special requirements…
Online Enquiry
Stock and Custom Cast Polyurethane Rod