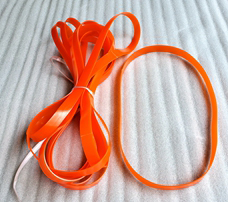 Shanghai Pepsen manufactures custom urethane band saw tires. Hardness is normally Shore 85A, and can be customized as well as color.
What is polyurethane band saw tires?
Urethane band saw tire is widely use in wood working machine for hobby, home shop and commercial saws. Cushioning material mounted around the perimeter of the metal wheels inside the band saw. The tire gives the wheel grip to drive and guide the band saw blade.
They work on band saw much longer than rubber ones. They do not dry out, crack, peel, or harden like rubber tires do. They hold tightly to the wheel that you do not need to glue them down either. Bright orange color for safety and easier inspection.
What are advantages of urethane band saw tires?
Made from the high quality urethane
Great tensile strength and abrasion resistance.
Various sizes to fit most popular band saws can be customized
Eliminates blade damage due to wheel contact
Prolongs band wheel life
Stretch to fit without glue making installation easy
Why you choose PEPSEN to make urethane band saw tires?
Many tools in stock, little tooling cost
Application specific formulations that meet needs for tough working conditions.
Hardness ranging from Shore 5A to 98A to 80D.
Ester or Ether based
Over 30 stocked color options and customized colors available.
Large inventory of various urethane spring and bumper