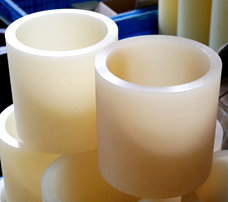 Pepsen has been manufacturing thousands of fiberglass chopping cots worldwide. We have various tooling to produce them. Polyurethane Chopping Cots can either come in sleeve form to be put on chopping hub or with urethane cast molded on chopping hub directly.
By using specific polyurethane formula developed for this application asking for great abrasion and cutting resistance, Pepsen can make very durable chopping cots.
ü In-house prepolymer manufacturing
ü Hardness ranging from Shore 5A to 98A to 80D (very flexible as rubber band to very hard as bowling ball).
ü Ester or Ether based.
ü Little or no mold fee is required as we have most of them in stock.
ü Over 30 stocked color options and customized colors available.
ü In House Machining Services to hold tight tolerances after casting.
Which Application Specific Urethane Formulation Can We Offer?
ü Abrasion resistant
ü High rebound
ü Low compression set
ü High load capacity
ü High temperature
ü Excellent dynamic mechanical formulation
ü Oil resistance
ü Hydrolysis resistance
ü Fire retardancy , anti-static, antioxidant, mildew resistance, anti-aging, lubrication and many more
Online Enquiry
Urethane Chopping Cots for Fiberglass Cutting