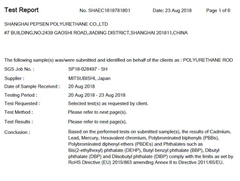 RoHS is a mandatory standard regulated by EU legislation, which imposes strict restrictions on toxic and harmful substances in products. All designated products exported to EU countries must obtain certification.
With the development trend of economic globalization and product export, based on the original six tests, our company actively responds by taking measures such as replacing raw materials, adjusting the formula, and many tests to verify the test. Our company's urethane die springs and related products have successfully passed the third-party inspection institutions approved by international certification bodies, and issued 10 new ROHS inspection certificates. This assures Pepsen products can be smoothly exported to the European Union and the United States, Japan and other regions and countries. The reputation of the enterprise, the brand and good reputation of many years of honest management can be continued.
Protecting the environment is the common responsibility of mankind, and RoHS certification is a basic tool. Shanghai Pengbosheng Company actively keeps up with the international rules and requirements, while ensuring the company's continued good operation, it also undertakes the social responsibility of protecting the environment and human health, and has won the unanimous praise of many customers and peers.
Prev New
Next New