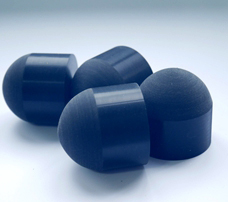 Shanghai Pepsen manufactures versatile urethane parts for car die as per customer requirements including drawings or samples, and urethane rubber bumper with round tip end is one of them. Pepsen use high performance raw material from German and Japan, so it replaces MISUMI product successfully. Hardness is normally Shore30-50-70-80-90-95A, and can be customized as well as color.
What is urethane rubber bumpers with spherical tip?
Urethane or polyurethane is widely used in car die industry as spring, washer and bumper. The low compression set as well as excellent resilience and ear resistance make it an ideal material. They are used in applications where corrosion, vibration, and magnetism prevent the use of conventional steel parts. Also, urethane has proven to be the safest, most efficient and reliable compression material for punching, stamping and drawing dies.
What are advantages of urethane rubber bumpers with spherical tip?
High load bearing
No marring/galling
Oil and solvent resistance
Noise abatement
Vibration damping and shock absorbance
Strong Bonding to mating parts
Low build-up heat
Why you choose PEPSEN to make urethane rubber bumpers with spherical tip?
Many tools in stock, little tooling cost
Spherical Tip, Tapered Tip
Application specific formulations that meet needs for tough working conditions.
Hardness ranging from Shore 5A to 98A to 80D.
Ester or Ether based
Over 30 stocked color options and customized colors available.
Large inventory of various urethane spring and bumper
Online Enquiry
Urethane Rubber Bumpers with Spherical Tip